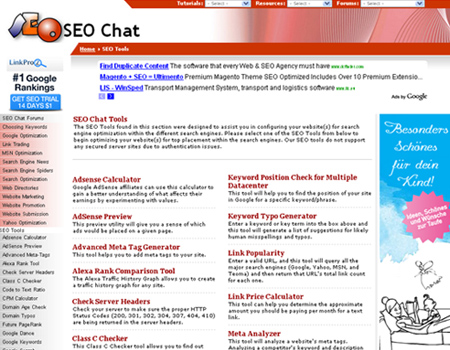 Since I started in SEO 6+ years ago, one forum always ranked for SEO – SEO Chat, a part of the Developer Shed network. Jim Boykin, he of the Internet Marketing Ninjas, just acquired the forum and the rest of the network.
I'm pleased by the news because to me, SEO Chat has long been a site with no personality, when personality is really a distinguishing feature in this industry. 
1. SEOmoz is Rand/Roger's playfulness and creative tools,
2. SEO Book is Aaron Wall's sharp insight into Google's direction, particular tactics and criticism of anti-competitive practices
3. SEL and the SMX conference series are Danny Sullivan, Chris Sherman, Barry Schwartz and the industry's top consultants
4. Wolf-Howl is original tactics, reviews and Google Blew It (Again) posts by Mike Gray
5. Loads of individual blogs from link building pros such as Eric Ward (link Moses), Garrett French (prospecting champ), Kieran Flanagan & John McElborough (testing and mixing advanced whitehat and grayhat ), Ontolo, Linda Mastaler etc
6. New creative whitehat tactics by teams of experts at SkyRocket, SEER, SEO Gadget and Distilled
7. Misc niche and creative people like the wonderful SEO Smarty's always-original ideas (and guest posting forum), algos at Bill Slawski's SEO by the Sea, and value-added affiliate marketing + SEO by Rae Hoffman.
SEO Chat to me was a logo + boring discussions by a community I personally didn't find really helpful. (They sarcastically suggested I rank for SEO back in the day … which ironically I did do at least on Google.ca, behind only Wikipedia 😛 )
Jim's talking on his blog about improving the usability of the site, which is big.
Even bigger, imho, would be giving his ninjas 20% time (a la Google) to spend building up the volume of useful discussion on the forums. WebmasterWorld (WMW) has a brand as the forum with experts in technical SEO and expert webmastering in general.
Perhaps Jim et al can turn SEO Chat into places that feature more useful discussion. How they'll be different from WMW though, I have no idea.
I'd also suggest sub-dividing forums into beginner/advanced forums, so people can filter out what bores them.
Sitepoint's SEO forum is probably still discussing whether directories are still worth it, for example, and most advanced SEOs ignore the forum because the level of discussion dominant there precludes them from learning anything new.
It's not just usability that's needed, Jim. It's a brand (at least for SEO Chat – I never frequented the other sites, since I'm no coder). Can you pull that off?
If you liked this post, get my latest posts by email or RSS, or get a free chapter from my book on advanced SEO.